Provided by
Sentiment Analysis
AI can classify emotions from text into 3 categories: positive, neutral, or negative.
Get Started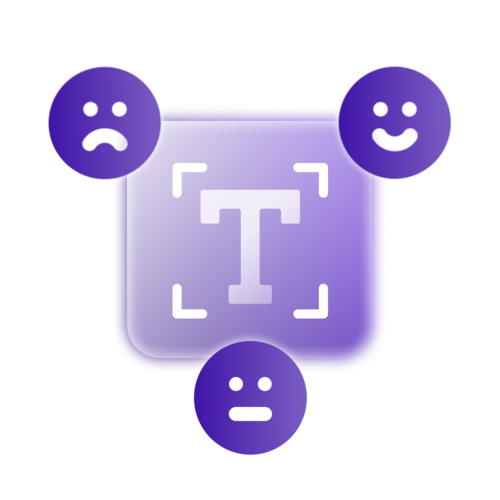 What is Sentiment Analysis?
Sentiment analysis is a text classification model that analyses the given sentence and determines its underlying sentiment—Positive, Neutral, and Negative. This method is often used in business to gauge opinions of individuals or groups. This model can be integrated with several use cases, most of which focus on customer experience management, social monitoring, customer feedback, and voice of the customer or employee.
Get Started
Use Cases Customer Relation Management (CRM)
Sentiment analysis plays a crucial role in measuring customer satisfaction and tracking consumer opinions on various platforms including e-mails, instant messaging, websites, phone calls, etc., which is the important part to improve the management of the company's interaction with their customers and build customer loyalty to brand.
Here are some examples of sentiment analysis use cases for Customer Relation Management (CRM).
1. Customer Support Management
- Automatically processes customers by supporting customers based on priority and sense of urgency, monitoring sentiment in conversation via online chats, phone calls and emails, and then routing them to the appropriate team
- Increases customer satisfaction with faster problem response
2. Customer Feedback
- Gains insights from the tons of customer feedback which is available in online reviews and social media
- Performs sentiment analysis on product review, social media post, and surveys, which helps company to enhance customer service and optimizes marketing strategies in order to save employee working hours from manual survey the feedback
3. Voice of Customers (VoC)
- Categorizes and structures all customer opinions from the web, customer surveys, chats, call centers, emails, etc. to identify patterns and discover recurring topics and concerns by using sentiment
- Listens to customers' voice and learn how to communicate, which helps create a personalized customer experience.In addition, the company can offer special services or promotions to unsatisfied customers, or reward those who are extremely happy with brand/product/service, encouraging them to spread the word about product or service